Siva Achaarya Thangam Bhattar

Siva Achaarya Thangam Bhattar is one of the world's renowned Siva Achaaryas. He was at Meenakshi Temple, Madurai, Tamilnadu, India as the Chief priest for many years. He has been at SVVS temple, Kenner, LA since inception of the temple in 1994. He served as an officiating priest to conduct Kumbhabishekams in several Temples in India, USA and many other countries. He is a recipient of numerous awards, including Hindu of the Year in 2018.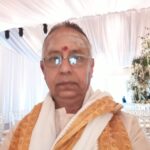 Acharya Sivamoorthy has served with great dedication as one of our temple priests since 2011. He hails from a strong priest ancestry or Acharya parampara in Palghat city, Kerala. He trained in Sivagama from Viswesara Veda Agama Patasala. He has knowledge of Indian Astronomy and experience in temple pujas and other customary Hindu religious services. He can speak and communicate in Tamil, Malayalam, Telugu and English.